Vi kommer att publicera figuranter efter hand
Martin Hasager
Age: 42 years
Height: 196 cm
Weight: 96 kg
I have been around in dogsports as a training helper since 2001 and obtained my
trialhelper license in 2009.
In 2016 I was selected as competitionhelper in the GSD club of Denmark and at the same
time also aproved as a breed license helper for GSD's.
I'm very happy for the invitation to be a part of Modprovet 2020 and I wish all participants
the best!
I've had the pleasure of about a hundred trials, competitions and breedlicenses. Here are
some of the recent highlights:
2019:
- IFR World Championship, Odense (Rottweiler)
- Herning Open 2019, Herning (All breed)
- DcH NOM selection, Langå (All breed)
- RKD IGP DM, Odense (Rottweiler)
- SHKD IGP3 DM, Roskilde (GSD)
- SHKD DM/WUSV selection, Haderslev (GSD)
2018:
- RKD IFR selection, Ishøj (Rottweiler)
- SHKD DM/WUSV selection, Herning (GSD)
- SBH IPO DM, Horsens (Malinois)
- DSPK IPO DM, Horsens (Schnauzer)
- RKD IPO DM, Odense (Rottweiler)
- DKK IPO3 DM, Køge (All breed)
2017:
- SHKD DM/WUSV selection, Roskilde (GSD)
- DDK IPO DM, Thisted (Dobermann)
- DcH IPO NOM, Lemvig (All breed)
- SHKD DM/WUSV selection, Fredericia (GSD)
- DcH NOM selection, Dronninglund (All breed)
2020: (Confirmed so far)
- DDK Jysk Mesterskab, March
- RKD IFR selection, March
- DKK IGP3 DM, April
Link to my Workingdog.com page:
https://www.working-dog.com/user/Martin-Hasager-28364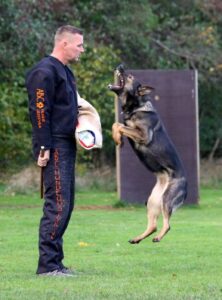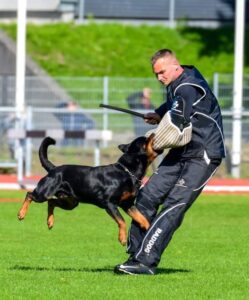 Pablo Varela
Age: 42 year
Length: 170 cm
Weight: 83 kg
I'm living in Västerås and have been training dogs for over 20 years.
I have been competing with two malinois, China van de Berlex-Hoeve and Garm vom Adlerauge, in IPO/IGP.
With Garm I have participated in Swedish team at the FMBB 2013, where we won Team Silver and 12:th place individually. I have also participated in FCI World Championship 2013 and 2014 for team USA.
Been a trial helper since 2006 and worked as a helper at the Swedish Championships for Belgium Shepherds, Rottweiler and Dobermann.
My latest championship trials:
2016 Swedish Championship German Shepherds
2017 Swedish Championship all breeds
2018 Qualification trial for Swedish and World championships
2019 Swedish Championship all breeds
Ålder: 42 år
Längd: 170 cm
Vikt: 83 kg
Hemmahörande i Västerås och har hållit på med hund i över 20 år.
Jag har tävlat två malinois, China van de Berlex-Hoeve och Garm vom Adlerauge, i IPO/IGP.
Med Garm har jag tävlat för Sverige på FMBB 2013 som resulterade i lagsilver och en 12:e plats individuellt, har även deltagit på FCI VM 2013 och 2014 för USA.
Varit tävlingsfigurant sedan 2006 och figurerat på svenska mästerskapen för Belgiska Vallhundar, Rottweiler och Dobermann.
Mina senaste mästerskap:
2016 Schäfer SM
2017 SM alla raser
2018 SM och VM kval
2019 SM alla raser