Mario Verleene
My name is Mario Verleene, Belgian decoy since 2015.
For the 3th time i visite Sweden for a Mondioring competition and i'm happy to come back to this great country.
Except decoying in Sweden i also did a lot of competitions the last years in several European countries. Probably the biggest experience was my qualification to decoy at the FCI 2017 World Championship categorie 1 and 2 in Spain. Several national championships in Belgium and the World Championship Dutch Sheperds 2019 were also nice to do.
For me Mondioring is a team sport where every part of the team is important. As decoy there's 1 golden rule i think on competitions, following the rules what a decoy can do and can't do. Working for the dog and not against it. Respect for the dog handler and dog is crucial. If all those things are ok than i'm happy. I hope Mondioring keeps growing in Sweden. There a lot of talented dog handlers,the future looks bright for Swedish Mondioring. Framgång och hoppas att vi ses snart, hälsningar, Mario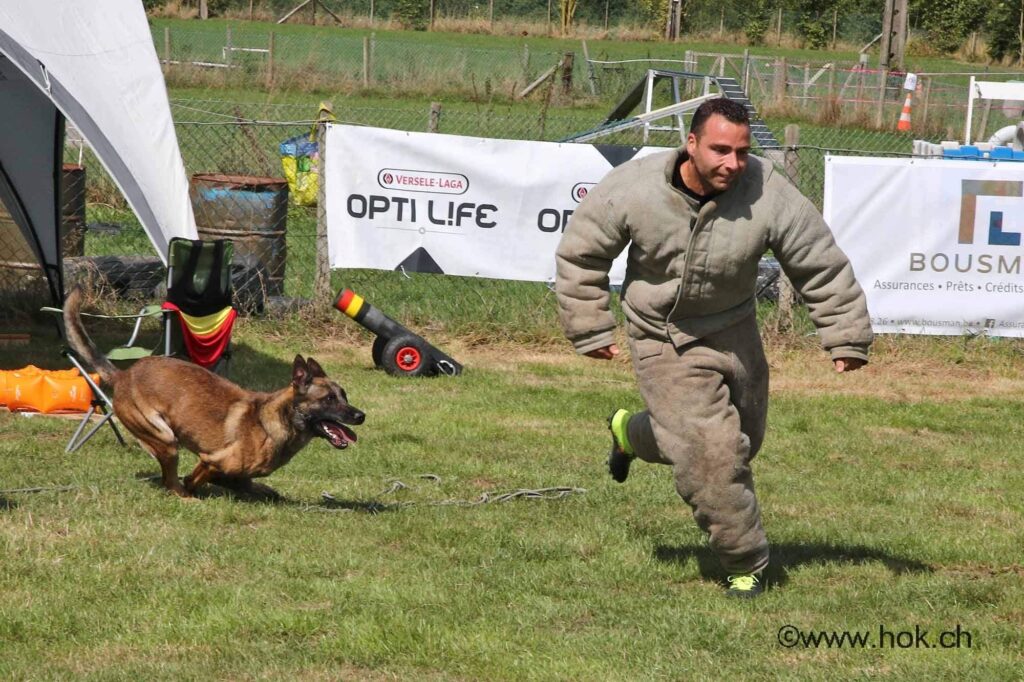 Morgan Blanchard
Morgan is a dog lover, from always living with them. Born in France, in a family that shares the same passion. His father, Dominique Blanchard, always used to have dogs and was practicing ring sports far before him (25 years ago), back in the days where they were all still living in France (French Ring, Campagne, Pistage, etc..).
Before joining the Mondio community, Morgan was already into sports competition, being an athlete of other disciplines (karate), and all the other prep needed for it (running, cardio, etc..)
Some years after the all family moved to Portugal, Morgan and his brother (Charly Blanchard) joined his father to a portuguese club and got introduced to Mondioring in the suit, and from this day on, was never able to let it go.
Started practicing in the club, as a training decoy then as a handler.
Some results of Morgan:
Great Prize of the Portuguese National Championship (cat. I & II) in 2014, 2015.
Portuguese National Championships in 2016 (PT), 2017 (PT), 2018 (PT), 2019 (PT, SPAIN, USA) (cat. III) .
First Internation Selection in 2015 – 6º (France, Vendenheim)
International Selection in 2017 – 2º (Spain, Gorliz)
World Championship in 2018 (cat III) – (Russia, Moscow)
National Championships in 2019 (Spain, CEPB and USA)
International Selection in 2019 – 2º (Poland, Nedza)
Qualified and expected for the Next World Championship in Greece in 2020.
As a handler, he trialed in all levels.
Today, besides the travels where he trials and coaches abroad (decoys and handlers), he also coaches, himself, in his own club, DOGS & CO, with different sections (education, guard, sport sections)
He has his own kennel, CLAN DU CXIAN, where they breed a very exclusive line of german sherpherds with the characteristics of ring sports and use them for the mondioring and french ring. Their german shepherds achieved the all levels without exception (MRI, MRII, MRIII), and played at high levels (National's, and World's) various times.